Portrait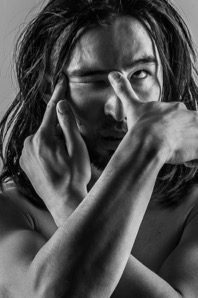 Dance and the art of being one-self
Born in Japan, Yutaka Nakata learned classical dance at the Nakata Ballet Theater school in Himeji. At the age of 16, he joined the "
National Theater Ballet School"
in Melbourne, Australia and learned different dance forms. Following this formation, he got into the "
Scala theatre school"
in Milan, Italy and graduated 2001 in modern dance course.

From 2002 to 2007, he participated the "
Ballet Theater München"
managed by Philip Taylor. He danced choreographies by
Philip Taylor, Jirí Kylián, Carolyn Carlson
and the other artists. At the same time, incorporated Marshal arts technics such as
Tai-Chi
and
Muay-Thai
from
Ajan Lao
school.

He works with
Carolyn Carlson
since 2007, dances her major creations. He never stop exploring to research even from sports, climbing, swimming, etc.
His driving force is self-expression

His universe grew since his discovery of the vast space in his mothers studio. Learning movement and forming own movement (Improvisation) was the main interest at his childhood.

From 2001, he started to create dance piece to express his "
internal journey"
and had a chance to present with professional dancers since Munich. After these experiences, Yutaka realised that his work relates with life questions and write own philosophy to share his
Q & A
with the audience. And continue learning and expressing to improve his flow of creation.

Life as a colourful mosaic
Yutaka Nakata is confident and believes in his destiny. What guides him is his desire to be true to himself and to let his dancers fill his pieces with their own emotions, their own substance.

Even though, dance is the most important part of his existence, he considers many other possible paths to keep evolving and maturing. Life for him is a colourful mosaic in which everyone brings his own touch. As revealed one of his first piece, it's from this combination of particularities that rises beauty.